Those who forget their Ancestors don't deserve to be remembered!
---
UPDATE (7 JUNE 2012): Another five years have lapsed and brackney.info is gone. You can find me on ancestry.com or by email at pbrackney [at] gmaildotcom.
UPDATE (10 FEBRUARY 2007): Please go to www.brackney.info for more on the Brackney's and related families.
UPDATE (26 JANUARY 2007): After eight years of absence, I have reclaimed this website. I have not been active in genealogy since the late 1990s, but would like to return to studying our family. I want to advise those who visit this site that I will begin checking it with some frequency and hope to respond to comments left in the Guestbook. Best, Peter
Welcome to the home of Brackney Genealogy and the Brackney Family Association. Check things out, and if you are a Brackney or a Brackney researcher be sure to leave a message in the guestbook. To explore the rest of BG/BFA, just use the Table of Contents that is to the left.
If you are just passing through the site, please look around because the site is useful for all researchers.
Surnames that I am directly researching are listed below: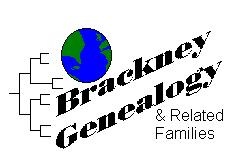 AAMODT, ALBERTSON, ANDERSON, ANDREWS, ASHBY, BEVAN, BORDEN, BRACKNEY, BRENTLINGER, BUNDY, CARTER, COPPOCK, DILLON, EDWARDS, ELLIOT, FAWCETT, FILKES, FOWLE, FRAIZER, FRAZIER, FREEHOLD, GARRET, GROVER, HAINES, HANSDOTTER, HAWORTH, HED, HENCHMAN, HODGSON, HOFINER, HOWARD, JANNEY, JARRAT, JOHANSON, JONSSON, KNEA, LINDBERG, LINDSTRUM, MATTESDOTTER, MIDDLETON, MORGAN, NAUS, NILSDOTTER, PARATH, PERISHO, PEARSON, PEELLE, PICKERING, PIERSON, PHELPS, QUIST, REAVER, REEDER, ROGERS, SAUMANN, SCARBOROUGH, SMITH, STEVENSON, STYER, TERREL, THOMAS, TIEN, TORNOR, WHITFIELD, WIDING, WILSON, WOOD, WRIGHT, VICARS.
If any of these names look familiar, please E-mail me so we can exchange information.
Thank you for stopping by.